Working mom home management
As a working mom it is absolutely vital that you make sure that your home life is running smoothly and this is where working mom home management comes in. If you don't plan your days like clockwork you will find that it will cause lots of unnecessary stress and arguments within the family.
To start with you should plan your weekly shopping and what you and your family will be eating on every working day. There is nothing worse than coming home tired and stressed only to find that there is nothing to eat and you have to go out again to sort something out. You should really prepare any meals in advance and if possible just put them in the freezer and take them out the night before.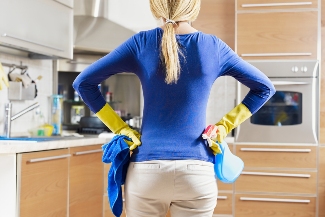 I know it sounds like an awful lot of work but it really is such a brilliant time saver and once you get into the routine of operating this way then you will find that it will soon all fit into place. Another great piece of advice is to try and get your children into a set time of going to bed. It is no good to anyone if they stay up late, you will not be able to relax and they will be tired and grumpy the following day. By getting them to bed you will be able to have a couple of hours to wind down and the effect that this will have on your mood and your health in general will be massive.
It is never a bad idea to involve your children in your working mom home management and if they all have a job to do it will help you, as well as giving them a sense of responsibility which will go on to serve them well in later life. It could be something simple such a s putting the rubbish out or washing and drying the dishes. If they don't do it you will have to so it really does serve two purposed and saves you a lot of time.
Just by sitting down for a couple of hours and planning it all out will be time very well spent, and will save you hours of extra work throughout the week as well as a load of stress and aggravation. Many working moms think that it is not worth it but just you try it and be amazed at the results.
Thanks for reading my blog post and I hope you enjoy our work from home moms blog.
Kind regards
Sam
X