Online Working Mum
Working mum is one of the most difficult jobs of the world. Working mum has lots to manage in everyday life. They have to maintain their home, look after their children and also have to work to earn for their family. Due to inflation in present times this has become a need of time. Both partners have to contribute so that they can manage enough finance for their family and maintain a decent lifestyle.
For some people, it is easy to be a working mum. However, some mums have to accept the situation the way it is as they do not have any other choice. However, there are some mums who are adopting a more innovative and convenient way to get the job done like working at home or working as a freelancer. It is not easy for a woman to make her decision and choose between family and career. A woman has to compromise on many requirements of her family to cope with needs of jobs. However, one more option available for working mum is to work from home.
The advantages of working from home for working mums are as follows:
Working from home provides flexible hours of working for mums so that they can work when they have time and when they are free of family responsibilities.
Home based jobs for working mums enable them to monitor their children in a more proper manner than regular working mum. It has been proven through research that children with working mums tend to get overweight more easily, which can result in obesity. This is due to the fact that children with working mums eat more junk and readymade food, which destroy their health.
Working mums who work from home can also regulate the habits of their children which include sleeping and eating on time.
Home based jobs can help working mums to contribute to the financial expense of their home without leaving their home, and can help to meet responsibilities of their families.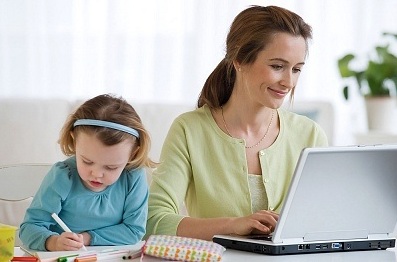 Being a working mum is not something very difficult, but it does need proper management of timing, and work management capabilities. Working mums, whether home based or regular, they need to put an extra effort to cope with responsibilities of work and home. They have to manage their jobs as well as look after the needs of their children. Only this way they can play an effective role to meet financial and domestic responsibilities of their lives.