A Letter to Santa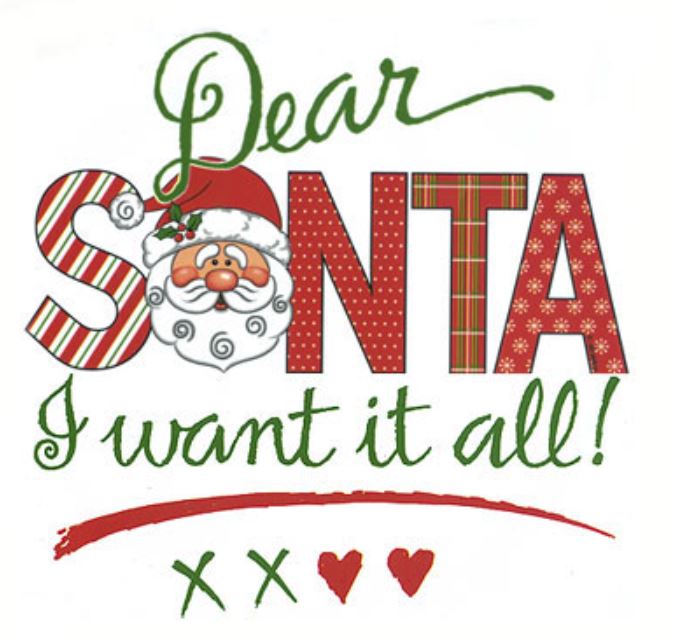 Dear Santa
As Christmas is fast approaching I have started thinking about preparations for the festive season. Gift buying is, of course, at the top of my mind. With two children to buy for and a vast array of requests for what they want, I have been thinking about the true of meaning of gifts and what I consider to be reasonable in terms of what you might give to my children.
You see Santa, I have been struggling a little bit with some of the gifts that I know that you present to other children. So I have a request – it is quite a simple one. Is it possible to limit the 'value' of the gifts that you so kindly bestow on all of the good children in this world? In case you are puzzled by my request let me explain.
I try to keep my children's requests to yourself fairly simple and not too expensive. Don't get me wrong – I am not miserly. I love to get my children nice things and sometimes I can be guilty over indulging. I do try to refrain from buying them too much but sometimes I probably say yes a little too often. However I have no control over what other children are given – especially when it is a present from your good self.
So what is my problem? Well, it comes down to the inequity that sometimes seems to exist. I don't want to criticise you too much. You do an awesome job. But some of the Santa gifts that my kids friends get seem a little excessive. And frankly I find it annoying.
I am not saying that my kids are perfect – I only wish! But I have always tried to keep their requests to yourself 'reasonable'. A gift that is not too expensive or too large but enough to say 'you have been good this year'. You might recall that when my daughter was almost two her request that Christmas was 'pink ice cream'. That was it. Nothing else. And you very kindly obliged. She was so excited on Christmas morning you would have thought that she had won a toy shop for Christmas.
A few years ago my son, then aged 3 asked for a book on dinosaurs. Just one book. And again you happily obliged. His delight that Santa had thought him to be good enough to get what he had asked for was intoxicating.
But things have changed. As my children have gotten older they have noticed that some of their friends receive gifts from Santa that are substantially better than theirs. This has become more obvious when they tell me that they are going to request the same thing from Santa – if their friends requests are being rewarded then why shouldn't theirs? Not too unreasonable in the scheme of things.
Last year one of my daughters friends asked you for an iPhone for Christmas. She must have been EXCEPTIONALLY good. There, under the tree, on Christmas morning, was the beautiful iPhone that she had asked for. Bravo Santa! I think that I might start believing in Santa again!
So this year my daughter is asking for a new iPhone – and not the basic one. An iPhone 7, rose gold, 128gb etc etc (I cannot actually remember all the details – I am happy to just have a basic one). She is really hoping that she has been good enough to receive her one request.
Seriously! This is ridiculous. Go for the KISS principle – Keep It Simple Santa! Stop over-indulging! My children do not need to get something expensive that they have not actually worked for and therefore have not earned. Just being good is not enough. I don't want to judge other peoples children but the same principle should apply. I am not trying to criticise you – I am trying to make your life easier. And mine too, I guess.
So when you are out and about talking to children, remind that there are many other children in this world that are far less fortunate than them on a daily basis and that their requests should bear this in mind. Perhaps children could do something for other children that are less fortunate as a way of paying-it-forward. Even a way of earning their Christmas gift.
I just ask for consideration in this matter…..
Warm regards
The mother of 2 children
PS I don't really want anything for Christmas – but if there is some magic potion that you could deliver that would give me two perfectly behaved children for the next 365 days I would be eternally grateful.