What Are The Needs Of A Working Mom?
If you are a working woman and have a household to manage as well, then you may find the task a tedious one until and unless you plan your routine with care. Planning is very important if you want to succeed at your job and maintain the respect of the family. To avoid inconvenience, you should write the schedule of each day on a wall calendar. This will keep your partner informed of your routine and will know whether you will be there to take care of the child on that particular day.
As a working mom, you should categorize your activities. You should perform those tasks first that require your immediate attention and then focus on less important work. In the process, you should not overstress yourself. If at any time you feel overworked or stressed out, you can ask your partner to help you. In between all the work, you should devote some time to entertainment and fun. You should not compromise on your sleeping hours, because the health of mom is important for the well being of the entire home.
The job of working mom becomes more difficult if her life partner passes away. In that situation, your responsibility is doubled. You should accept the fact that you are alone in the fight and plan your life. You should be strong not only for your kids, but you need to even take care of your job to earn a living.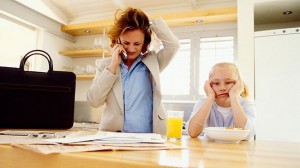 It may be a good idea if you take part time jobs after becoming a mother. Full time jobs may really be taxing for you, physically as well as mentally. Part time jobs may not earn you big money but they will surely allow you to devote more time to your family and children. You can even start your own business from home as that will help you to take care of your kids' day in and day out. One of the greatest attributes of working mom is the ability to take care of husband and home and at the same time perform the job with full zeal and zest.
If you are a lazy person then you might as well forget about the job because being a mom your first and foremost responsibility is your kids. They deserve your attention and affection. Paying more attention to the job and less to the kids may not be good for the future of your children.