Ways to Be Healthier While Working at Home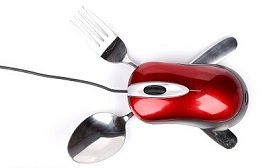 Hello there! Are you a work at home mum or mom? If you are, then you know how quickly you can gain weight. I hear of moms all the time who have gained close to 30 pounds while working at home. Some of you might think that is a shocking number but it's quite common. Just like anyone who is working at a desk job, it's easy to gain weight. If I could tell my audience one thing it would be to try and start today to eat a little healthier.
Starting to eat healthier means that you can change your life forever!  I know because I work at home and staying healthy is important. Although that chocolate cake might look a lot more enticing than a piece of celery, it's important to balance it all. Never, ever deprive yourself of what you want to eat. However, you should watch how much you eat. I think the biggest mistake people make is not watching what they eat and just shoveling it in. Keep track of your food for one day and you might be surprised as to what you eat in one day.
Since you sit at your desk all day, you need to get out and exercise. Exercise seems like a foreign word to some people, but it shouldn't be. Get out with your kids and take a long walk. A walk is the perfect form of exercise because you don't have to really think about anything. I love taking walks with my kid and husband and just enjoying nature's beauty. It wasn't too long that I read a story about a woman who lost 165 pounds, just from walking. Can you imagine? That's beautiful and very encouraging.
What are your tips for being healthier because I would love to hear them! Of course, each week I will be updating this blog with healthy eating habits. Do not forget that you are not in this alone. A lot of work at home mums and moms across the world struggle with eating and exercising. One thing that I always remember that food and exercise go hand in hand and they both can help you maintain and even lose weight.  I will fill you in on my progress and let you know how I feel about this whole progress. I also want to start tracking my food on a daily basis.