The Piano Garden Method Review – Slow And Steady Vs. Overnight Success
There are lots of products available that claim to teach a person to play the piano from the beginner level to an intermediate level extremely quickly without any other lessons. Many of these guides are not worth the pages they are printed on. It can be very difficult to tell what's good and what's going to be a waste of time and money. I came across the Piano Garden Method recently and was pleasantly surprised at how straightforward it is. The product is offered by Marc Johann who says his goal is to produce as many piano players and teachers as possible. This product was released not only as an easy guide for beginners to learn to play the piano, but for instructors to use as a lesson manual when teaching their students.
While I must admit I've been tempted by some of the promises of other products to learn to play quickly, I'm well aware of what a bold claim that is. Can the average person really learn to play something as complex as a piano in just a few short days or weeks? Experts agree that you can't learn all the skills necessary to be a beautiful piano player by taking short cuts. It's just like learning to play a sport. You can't expect to be Michael Jordan after a few weeks of learning to shoot a hoop. The skills necessary to playing the piano are similar to the way you develop skills in sports. They are learned and developed over time by setting habits that lead to repetition, which in turn leads to understanding and establishing a solid foundation on which to grow.
(If you would like to find out more about The Piano Garden Method please Click Here)
One of the things I liked most about the Piano Garden Method is that it doesn't profess to make you a pro in a short time. All it promises to do is take a beginner to an intermediate level. The time this takes will be dependent on the student's ability to learn and grasp the concepts and their desire to do so. So, it makes sense that it would vary from student to student. Some of the eye catching features of the program include the ability to learn at your own pace. The information is set up in a text book style manual that teaches one skill at a time. When the skill is mastered, the student moves on to the next one. It's designed to be simple enough to be learned easily, yet challenging enough to not bore the student. It makes it easy to spend extra time on areas that need it and breeze through other areas that you don't have as much trouble with.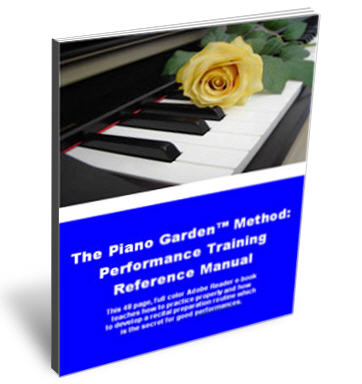 (If you would like to find out more about The Piano Garden Method please Click Here)
While I've been looking at it from a student's perspective, there are lots of piano teachers that have loved the program as well. Marc Johann expressed his frustration with childhood piano lessons. He said he was always switching teachers and none ever seemed to follow a lesson book from start to finish. His lessons felt random and he didn't seem to be getting anything out of them. This seems to be a common frustration among students. So, Marc developed this program for teachers to use as a step by step guide of introducing the concepts to their students. Teachers can easily print the student pages as they need them and introduce them to their students. Lots of teachers have commented on how much more progress their students have made after switching to this method. It's good to hear so many positive reviews in a market where there are so many false claims on products that don't really do what they're supposed to. After all, I think we all need to decide whether we want to learn to do something well, or learn bits of it quickly.
If you would like to find out more about The Piano Garden Method please click here.
Thanks for reading my blog post and I hope you enjoy our work from home moms blog.
Thanks for reading
Samantha
X