Surviving the Summer with Kids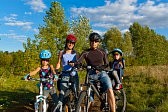 Summertime means that most kids are home from school and mums get to spend a lot of time with their kids. This may mean that you have to readjust your schedule to accommodate your kids because they do not want to watch your computer screen for hours to come.  How can you stay happy and make them happy as well?
The summertime might mean that you just need to call in a sitter or family member to help you out. Have them take your kids to the park or zoo for a few hours while you get your work done. Just remember that just because you work at home it does not mean your kids should suffer as well.  The sitter can just take a lot of pressure off your back and give your kids some fun. I'm sure a family member would not mind taking the kids for a few hours. Some family members can be like pulling teeth whenever you need something.
Take the kids just to do something fun. Imagine being a kid and being stuck in doors all day. Just do something fun with them and then come back to your work. I know how hard it is to break away from your work because I am there every day. Just try to imagine how your kids feel and just make their day extra special. I think it's also important to rotate doing things that everyone wants to do.
It's also important for your family to realize that you also need to work if they want food and a roof over their head. Everyone needs to be respectful of each other and get through the summer together. If you can get through the summer as a work at home mum, then you will be really successful at what you do.
My best advice is to not let the summer affect you, but try and make it as painless as possible. Kids are special and you both can make special memories together. Admit it; you will be sad when your kids go off to the next grade. Enjoy time with the kids and just let the days unroll as they wish.
What is your plan for this summer? Make sure you have one because you do not want to struggling later to try and  find a sitter or family member to help you out. You will survive the summer because you are a work at home mum that knows what she is doing.