Stufun Similar Sounding Words Review
I hope that I am not alone in being confused by the different spelling of English words that sound the same but mean something completely different. I have lost count of the amount of times that I have sent an important letter or email and as soon as I have dropped the letter in the post box or hit the send button on the email I have realised that I have used the complete wrong word.
How embarrassing because I always thing that it makes me sound a bit dumb but when I talk to my friends about it, it seems that we are all the same and we all make these kind of mistakes from time to time so that makes me feel a little better.
My son has recently started asking me about these different kind of words and if I find the whole thing on the confusing side I am sure he does as well. I started to have a look around to see if there was anything on the market that could help him with his learning and to be honest, to help me as well.
One of the first places that I always look with regard to educational help is sarvagnan-theknowledge.com. I absolutely love everything about this website so imagine my delight when I discovered that they have a product that really does fit the bill perfectly in Similar Sounding Words. I know for a fact that this product has been receiving rave reviews so it didn't take much hesitation on my part.
I really couldn't believe it so I didn't even need to take a look at the free demo that was on offer and made a purchase straight away. At $17 I was expecting a pdf file with a video as a bonus but as I have already used  sarvagnan-theknowledge.com in the past I really should have known better.
What you actually get is a set of interactive, downloadable videos which explain in the only way that  sarvagnan-theknowledge.com can, the difference between over 90 Similar Sounding Words, why they are different and what they mean. At first glance that may seem to be a little on the boring side but if you have dealt with this company before you will be well aware that these interactive lessons are being taught by the Stufun family.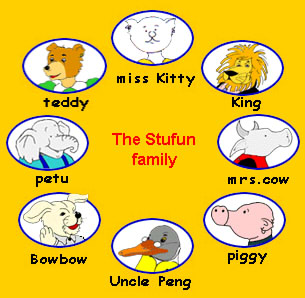 The Stufun family are a group of animated characters who guide a child through the learning process in the most amazing way possible. It is great to watch the expressions on a child's face as they are happily following along with what the Stufun's are teaching them.
The quality of the videos and animations would not look out of place in a Walt Disney film and I can only imagine the amount of work and attention to detail that has gone into them. If you go to the  sarvagnan-theknowledge.com website and download the free demo I am sure that you will be as equally impressed as I am.
As with all of the products from  sarvagnan-theknowledge.com, Similar Sounding words comes as a digital download and the whole process takes no more than a few minutes. Clickbank handles everything so you can rest assured that everything is secure and reliable.
The support from the website really is first class and what really shines through is that the people behind the whole operation really do care. It seems that their over riding goal really is to make a difference to the lives of children everywhere. With an attitude like that,  sarvagnan-theknowledge.com and in particular, Similar Sounding Words, just can't fail to be a runaway success.
You can find out all about it here and also view their other products
Thanks for reading my blog post and I hope you enjoy our work from home moms blog.
Kind regards
Sam
X