Spring Is Here – Back To The Park With My Son
Finally, it's spring and I will surely have the best time with my son. I love spring not only that I enjoy the great scenery and the sun but I also have the chance to really spend quality time with my son.
In this season, my son and I spend most of the day at the park. I let him play and explore his surroundings while I watch over him. I like seeing him having fun playing with other children in the park. I just let him be himself so he can de-stress himself from all those pressure he had during the school days.
Before we go to the park, I make sure I already orient him of what he cannot do in the park. Even if I want him to enjoy, I still have to set limits to prevent any untoward incidents. These are few things that I always remind him when we go out.
Never go far
I always tell him to play where I can see him. He should not go beyond five meters from my location. Of course, I always find a good spot in the park where it is near the playground and the other kids playing.
Do not climb on high places
My son is super active and I am very happy for that but I make it a point to refrain him from climbing high walls or to jump from the benches. I tell him that there are lots of other things to do and play in the park besides climbing. He can use the swing or play with other kids in the seesaw balance.
Don't forget to drink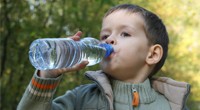 Sometimes children are so overwhelmed that they just ignore their thirst, hunger and sweaty clothes. They just want to maximize the time being in the park with other children. But I never let my son forgets to drink and wipe his sweat or change his shirt after minutes of playing. This is to avoid dehydration and to prevent getting sick from wet shirt.
We have been going to the park for years now and my son never forgets these guidelines. So, while he is busy playing I enjoy reading my favorite book, but I do check on him from time to time. I hope you and your kids will have a great time this spring break!
Thanks for reading my blog post and I hope you enjoy our work from home moms blog.
Thanks for reading
Samantha
X