How It Is Being A Working Mom
Becoming a mother adds to more responsibilities of a woman at the home front. Not everyone is comfortable balancing both home and work. Being a successful working mother requires lots of determination from the mother's side to providing the children with the best of everything and also to your job. It is important therefore that you learn how to balance both work and home together. When you are a working mother, you need to set your schedule in such a way so that you can give enough time to both work and take care of your family. It gets a bit difficult if you love work, as there would be times when you would have to side track things at work just to be there for your children, so you just have to be prepared for everything that would come your way.
When you are expecting a child, you often take a maternity leave during the last two months of your pregnancy. This allows you to relax and get the much needed time to enjoy your pregnancy and also prepare yourself for the coming baby. Maternity leaves usually lasts till your baby is about four to five months old, so you would not have to spend much time away from your new born. You should make preparations so that proper care is taken of your baby when you are at work. Having a supporting family always is a plus in this case as your husband or his parents can take care of your new born while you are at work.
You can also appoint a babysitter. Babysitters should be experienced, well aware of what is to be expected out of them, and should be able to take care of the baby in every situation. Having someone to help will make you less guilty of not spending enough time with your children. There are also several child care centers that provide day care facilities for children, so you can always enroll your child in such a center and be at ease.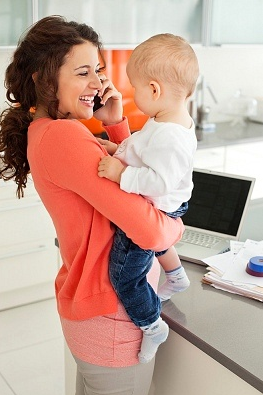 Being a working mom can be quite difficult in the present times, but there are plenty of options available these days that can make your job a lot easier, and let you be at peace that your baby and children are being well take care of. Support is the most important key, and if you are a part of a big family, then you are just blessed.