How Is It To Be A Working Mom?
Nowadays, women are working side by side with men in all fields. A couple of years ago, women were contented with performing their job only as a mother, but that is no longer the case. Women also want to actively participate in the affairs of the state and contribute to the economy. This trend is more prevalent in Western countries where women are not willing to give up their jobs even after becoming mothers. The attraction of money for some couples is just too much due to which mothers continue working in their respective profession.
The best thing which mothers have is their fighting spirit. They never give up, even in severe circumstances. Working women especially face problems in allocating time to work and family life, but hard work is a great asset which most working women have. If you are persistent in your efforts and keep the objectives in mind, then your life will be a lot easier. You should not be afraid to take help from your closed ones. You may ask them to take care of the children while you are at work or a worthy alternative could be to hire a baby sitter.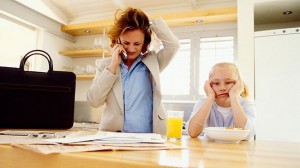 Many working mothers face problems from relatives who blame them for being less worried about the care of the children. You should not listen to anybody. The best thing to do is to listen to your own heart and decide what's best for your future and that of the family. It is a good idea to take time off from your job to spend vacations with your family. This is important for maintaining the emotional affiliation with your husband as well as kids.
After becoming a mother, you have to take responsibility not only for your own actions but also those of your children. Grooming the children along sophisticated lines is your responsibility. If you fail to achieve this objective then all your money will be of no use. Your real investment should be on the children.
Many experts on the topic of working mothers suggest that it is best if the woman who is having a baby is well established in the job otherwise she will have difficulty carrying out her duties efficiently and effectively. Many women even decide on working or taking jobs which allow them the luxury to earn money from home. This enables them to take good care of kids.