Fixing Up Your Yard: Mum Style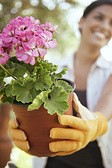 You already have enough to do as a work at home mum, but what about the yard. The husband is at work all day and it falls on you to do the handy work around the yard. Okay, some of you are spoiled and your husbands do it all for you. What about you moms that want ideal yards, but you do not have the ideal time. So basically you have limited time to make your hard and house look amazing.
First Thing
Give your shutters a quick spray with paint. It's amazing what a quick coat of paint can do for your house. No matter what type of house you live in, paint can make it look amazing. You can get a bottle of spray paint for about $4 at your local store.  Have your husband undo the shutters if he can and tell him that you will do the painting.
Pull Those Weeds
One of the best ways to make your yard look amazing is to pull the weeds. Weeds can make a home look awful and they grow back before you know it. The key is to try and keep up with them, so that you may have a nice looking house. This is a quick and easy way to fix up your yard: mum style.
Add a Chair
This may sound a little silly, but it goes along the lines of painting. Get an old chair or seat and paint it a nice color. The chair can't be made of fabric, but it can be metal or any other material. Use some spray paint and paint the furniture. You might be surprised as to how good it makes your yard.
Put Down Stepping Stones
Stepping stones can make your yard look fabulous. Making a pathway can really bring out your yard and make everyone a little envious of you. You can pick up cheap stepping stones at a local hardware store. When they are in season, they are actually really cheap, so your budget can stay happy too.
Add Flowers
There is just something about how beautiful flowers make everything look. Adding flowers means you can have bright and brilliant landscaping. You can either plant your own flowers or buy already sprouted ones. Either way is fun. You can even have a flower garden if you want your yard to look extra snazzy.