Do Work at Home Mums Have Fun?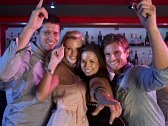 One of the worst misperceptions is that work at home mums do not have fun. That is not true at all and we do have fun. Most of the fun is spent with our families because this is the sacrifice we make for working at home. If you are a mother and you work at home, then you probably work at home to sacrifice for your kids and family. It does not always have to be about your family and sometimes it needs to be about you.
Have a Night with Girlfriends
A night out with your friends is extremely important. Ask your husband or friends to watch the kids while you go out on the town. Now, it's okay to drink and have a little fun but you do not want to go overboard. Most of us have to answer to our little ones in the morning. Just go out with your friends and have a little fun, but really know your limits when it comes to all of this.
Date Your Mate
You know that guy that walks through the door at the end of the work day? The man that you sometimes ignore because you are dealing with clients or too busy working; well, take him out on a date! There is nothing more surprising then you taking your husband out for a date. It's quite relaxing and it will be good to get out of the house for a while.
Spend Extra Time with Your Kids
Kids are a lot of fun and when you let your guard down, you can have a lot of fun with them. Plan a day out to the zoo, flea market or just to go get ice cream. Watch your kids laugh and play and watch the child come out in you. You only live once and do not forget the real reason why you are doing all of this!
Enjoy life a little and get out there and have some fun. As a mom, it's so important to relax and have a good time. The more relaxed you are, then the more fun you can have as a parent and a working professional. As a work at home mum, you have a lot on your shoulders. Unless you learn to relieve some of that stress, then you will never know the true meaning of fun.