Challenges Of A Working Mother
In today's fast paced life, women are required to multi-task, where they are responsible for both their family life and their job. And, greater challenge faces a woman when she is a working mother. Expectant mothers can have it a bit easy till the baby arrives, but the schedule gets erratic once she has to go back and re-join her work. It is therefore really important for a woman to organize her life the right way so that she can balance out both her work and family life.
When you are a new mummy, you feel that you need to constantly be there for your child so that you can take proper care of him or her. The work demands usually makes this responsibility of yours a little short-lived, but it's still your duty to make sure that things run smoothly when you are away at work. Of course you would feel guilty about not being able to spend much time with your baby, but arranging for some one who can take care of your baby while you are away at work and who is dependable can make things easier for you. Being a new mummy and a working woman would make you miss out on the exclusive breast feeding that your child needs during the early years of his or her life, but make sure that you still provide it to your baby, by making use of breast pumps and storage bottles that your child's care taker can give to your baby.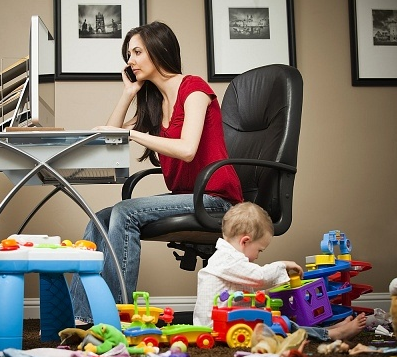 When you are home, try and spend as much time as you can with your child. Spending time with your child lets you and your child bond. And, this is a great time as you get to spend time with your child and also provide them with the necessary emotional support they need to grow up. If you have an older child, make sure that you participate in his or her school activities and functions. It is important that you create a great rapport with your child's teacher so that you can have regular update on how you child is coping up with studies and other activities. Also, make sure that you give your child the necessary attention when you are home. It can get quite challenging, but it is for the best.
As a working mother, you should be proud that you are getting to be a role model for your child. Working mothers do not have an easy life, but when you know how to handle the added stress and extra pressure you have, it all would seem like an easy life.