Blending Families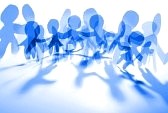 Are you divorced and getting remarried? Blending families is probably one of the most difficult things to do when it comes to family matters. Brothers and sisters, moms and dads all must put their own feelings aside, so that they can create this new family unit. Blending families is not necessarily a natural way of life and that's why it can be so hard to get things to go your way. Here are some tips to help you run this process a little smoother.
Patience is a Virtue
Blending a family and making it successful is not going to happen overnight and that's why you need patience. Patience can make everything go a little smoother. Everyone needs to have patience and not just the mom and dad. The more patience the parents have, then the more patience the kids will have. Remember, you all are working together to benefit the family as a whole.
Different Scenarios
One thing you have to realize as a blended family is that no situation is the same. Your friend might have a blended family, but her situation is a lot different than yours. Sure, you can ask her for advice, but you might not get the right answers. Whenever someone gives you bad or not so nice advice, just remember that they are coming from a different situation and an extremely different point of view. Take their advice lightly and apply it where you can, but do not take it to heart.
Take it Slow
Patience is important but so is taking things slow. Being in a new relationship is more than exciting, but you want to take things slow in regards to your family. Keep in mind that when you are dabbling in a potential blended family, you want to take everyone's feelings into consideration. That does not mean you have to listen to everyone else, but you should listen to your kids.
Give Everyone Space
Depending on the age of your children, they may not be very happy about getting a new parent or new siblings. Make sure each person gets the space they need. The last thing you need is extra emotions running through everyone. The bottom line is that this is a new and exciting time, but everyone needs their time to adjust. Keep in mind that everyone will handle the blending of the family a little different as well.