Bero – My Miracle In The Kitchen
I can't begin to count how many times my Be-Ro has pulled me out of a sticky situation in the kitchen and when I tell people this I find it absolutely amazing that many of them just don't have an idea what I'm talking about.
Well, a Be-Ro is a recipe book unlike any other. I can remember making cakes with my Grandmother and the Be-Ro book was always open, usually covered in flour but always referred to when baking cakes, even though my Grandmother is a brilliant cook, she would never consider baking anything without recurring to the Be-Ro, or the bible as she often called it.
The Be-Ro was initially given away with a purchase of plain flour by the same name, but has now gone on to be one of the best selling cook books in history with an estimated 38 million copies being sold and it is as popular now as it has ever been.
I love cooking and I really enjoy using the recipes from all of the television chefs, Jamie Oliver and Delia Smith for example, but more often than not I find myself using the Be-Ro, not just for their recipes but also for when I make a mistake with someone else's recipe, my Be-Ro always gives me the answers to get things moving again in the right direction.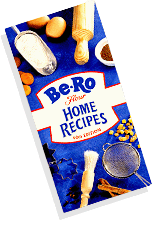 I could go on all day, talking about the many reasons that I could not live without my Be-Ro recipe book in the kitchen, but if I had to narrow it down, one of the main things that I like is how each recipe is graded into how difficult that particular recipe is, you know straight away if it is something that you can manage but to be honest, the step by step instructions really do make everything in this recipe book achievable by the vast majority of cooks, no matter what their cooking ability is.
I also like the way how different methods of cooking have gradually been introduced over the years, there are now instructions how you can start to incorporate the use of a microwave and other utensils that were not around when the book was originally written.
If you have not yet had the pleasure of using the Be-Ro recipe book, do yourself a favour and order one asap, I can assure you that if you do, you will most definitely not regret it and it will be in your family for many years to come.
If you would like to find out more about the be-ro recipe book please click here.
Thanks for reading my blog post and I hope you enjoy our work from home moms blog.
Thanks for reading
Samantha
X