Be The Bride Of Christ Review
When it comes to praying I would have to admit that it is not something that I really do on a daily basis and I would be slightly embarrassed to say that I can't really remember the last time I said a prayer, and it would seem that I am not alone.
Like many people these days, I don't come from a religious family and apart from going to the church with school I never really went as a child. As you know, I now live in Portugal and religion plays a large part in the life of so many, and it is not just the stereotypical type of person that you might think that have such a strong belief, it really is all ages and quite a few of my friends tell me that they pray on a regular basis as well as going to church on a Sunday.
Click here for more information about the Be The Bride of Christ
I know that there is much more to it than this but in Portugal there is a far much more relaxed way of life. People are not in so much of a rush and make sure that they have time for things like praying and to be honest, it is something that I greatly admire about them. They are staying strong to their beliefs and carrying on with their lives in a way which is true to them.
I was talking to a friend only the other day about this very subject and they told me about an ebook that they had recently read which they thought was really good. They said that a great deal of thought had gone into it and if I had any interest in the subject it was something that I really should investigate further.
There is no stopping me when someone recommends an ebook so off I went and purchased the ebook which is available from Bethebrideofchrist.com. I found the name a little off putting if I am going to be brutally honest but as soon as I started reading what the author had to say I would have to admit that the information that it contains really is something of an eye opener, in the nicest possible way.
The basis of this ebook is that it shows you how to pray, now before I go any further I know exactly what you are thinking, you don't really need to know how to pray, but if you think like this you will be missing the point of Bethebrideofchrist.com. The ebook literally opens your mind and shows you that whatever problems you might be suffering from at the moment, if you pray to God he will be able to help. It doesn't matter what kind of a person you are, it doesn't matter what you have done in the past because God will treat everyone exactly the same.
Bethebrideofchrist.com also goes onto to describe how God is always with us all, he made us and it was his intention that we all live a life of abundance. Contrary to popular belief, life was not made for us to suffer but with everything that is going on in the world, so many of us have become completely overwhelmed with one problem or another and a happy life seems to be a million miles away.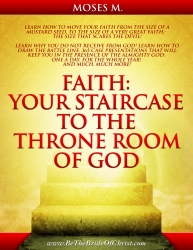 Click here for more information about the Be The Bride of Christ
If you think you may be interested in this kind of thing I would urge you to take a further look at Bethebrideofchrist.com. I think you will find it all rather enlightening and if you need some peace and hope in your life it may just be what you have been looking for.