Attributes Of A Working Mom
Being a mother is a privilege, but with this privilege comes a big responsibility. Being a mother requires that you become sensible and say farewell to carefree life. As a working mother, you may even be required to say good bye to your friends in order to devote more time and energy to your kids. The ability to say 'no' is a big attribute of a working mom. You should keep time wasters away from yourself, because time is money. Any family member, relative or friend who wastes your time and results in diverting your attention away from core responsibilities is your enemy and not your well wisher.
As a working mom, you can even take help from a baby sitter. A sitter can really ease you through your routine life and make life easier for you. A baby sitter can help you refresh your senses for a few days and get away from tedious routine. Job is something with which you earn money, but what is even more important is that you should act as counselors for the children. Kids learn a lot from their moms. Mother should be a role model for her children by striking the right balance between work and family life.
Another essential characteristic of a working mom is her relationship with her husband. She should share all her problems with the spouse and take help from him. This can also ease your life. A working mom can also help herself by getting acquainted with other working mothers. Sharing problems with women who are going through the same thing as you are will definitely help you solve many problems. It is also a good idea to have a cup of tea with your kids every now and then. This will maintain your relationship with children and they will respect you even more for taking time out from busy schedule and taking interest in their lives.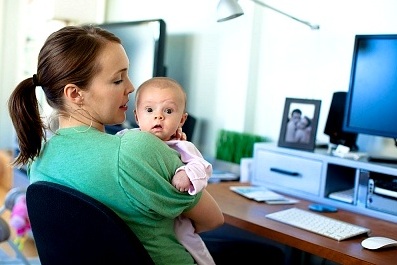 To be successful at both managing the house and performing the job efficiently, you need to take proper sleep. Sleepless nights won't do any good. You require at least six hours of sleep. Sleeping for less than six hours will have negative impact on your health. The well being of the entire home rests solely on the shoulders of the mother. If she is ill then the management of household will fall apart just like a country will be in shambles if there is no president or parliament to take care of its affairs.