An Honest Review – Reflectaffirm – Your Gateway To Success
It's not often that I come across something that is not directly related to internet marketing which basically stops me in my tracks but when I saw the new offering by Jurgen Mennelit basically knocked me sideways.
I have long been a believer in the power of working towards your goals and the many methods that make this process easier. One such process is the power of using positive affirmations as well as visualisation to get what you want, both in your personal life as well as in business.
I had heard of this chap, Jurgen, before and unless I am mistaken I read an article that was written by him some time ago that really made me sit up and take notice. Anyway, a few days ago I came across him again as someone was writing a review about his new product, ReflectAffirm.com.
Before I go any further it would be a good idea for you  to take a look at the website (click here) and download the first chapter of his new book, free of charge. You will get a good idea of what he is about and you will get a better idea of what I am talking about.
OK, I hope you're as excited as I am about what it is possible to achieve and I can tell you that if you decided to purchase the ebook part of the package, at only $7, you will be shown what must be the most effective away possible to go about your affirmations in order to succeed.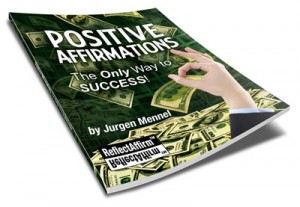 I would be prepared to put money on the fact that when you start to delve deeper into what Jurgen shows you, you will get that fantastic feeling of a tingle in your spine because you will realise what is possible and how quickly you will be able to achieve what you may have previously thought was completely out of your reach.
Please don't think that I have gone all 'new age' on you but I really am so excited about the possibilities that await the people who are prepared to put the instructions of Jurgan into practice. Not as much for me because to be honest I have been using similar techniques for years, but for friends and family, and not forgetting the readers of my blog of course, who may have not realised the massive potential of positive affirmations and visualisation in the past.
You will see from the  ReflectAffirm.com website that there are other products that are available with regard to positive affirmations and the like but even if you just purchase the ebook you will be amazed at what it can do for you.
There are bonuses that are available when you make a purchase and one of the bonuses, in my opinion, should be part of the actual ebook as it is so good. That bonus is a report that contains 101 positive affirmations. Now you might find this hard to believe but when I first started making affirmations several years ago I almost gave up at the first hurdle because I just couldn't think of what to say!
You will be surprised by how helpful this bonus is because you simply pick out which affirmations apply to your goals and use them in line with the method that is described in the ebook.
Everything that is available from ReflectAffirm.com fits together perfectly and I really can't recommend the whole thing highly enough. If you do decide to go for it though, do me a favour and actually use it, it could well be one of the best decisions that you have ever made!
If you would like to change your life for the better give it a go and affirm your life today:
Thanks for reading my blog post and I hope you enjoy our work from home moms blog.
Thanks for reading
Samantha
X